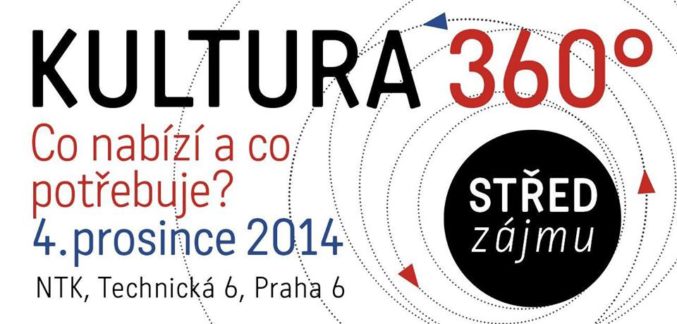 kul-
túra
The KULTURA 360° conference which took place in Prague on the 4th of December 2014 was focused on the state of Czech cultural life. The guests of the conference talked about what Czech culture offers at the moment and what it needs to do in order to develop and improve.
During the conference, new cultural concepts such as cultural and creative industries (KKP), mapping the cultural and creative industries in the Czech Republic, and the benefits and needs of specific fields of culture were presented and discussed.
The morning schedule of the conference presented the outputs of cultural mapping in various regions and cities of the Czech Republic such as Zlin, Brno, Pardubice and Pilsen. The guests and participants dicussed why, how, and what results can be achieved thanks to cultural mapping. The first part was mainly targeted at local governments, but a wider public was welcome as well. One of the most interesting presentations was delivered by the representatives of the Creative Brno project, which is focused on supporting people in creative professions and develop the city of Brno and the surrounding region at the same time. At the moment, Creative Brno is focused on creating a cultural space for the creative sector in the city. Petr Navrat spoke about a similar initiative, albeit in the sector of urban planning and design, based in Prague. His ONplan is an independent urban laboratory that provides holistic solutions to the current challenges faced by cities and regions around the world. Lastly, Michaela Mixova involved in the Pilsen 2015: The European Capital of Culture project spoke about how challenging it is to try to change the perception of a city via the organisation of hundreds of cultural events such as theatre performances, exhibitions, public space happenings and artistic interventions.
The afternoon programme of the conference presented the benefits and needs of the targeted sectors of culture such as music industry, theatre and dance, architecture, design, video games and film. The presentations during the second part of the conference were aimed at professional organisations and industry representatives who wished to gain knowledge as to how to successfully promote their own interests.
Useful links
Cultural mapping: http://en.wikipedia.org/wiki/Cultural_mapping
Creative Brno: http://www.kreativnibrno.cz
ONplan joint planning laboratory: http://onplanlab.com
Pilsen 2015: http://www.plzen2015.cz